The G Flex may soon become available at a location near you, as LG begins a global roll-out
7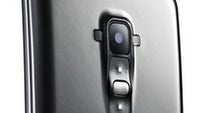 So here is what's been going on while you were ungracefully asleep. For starters, our hands-on with the LG G Flex is now a reality, but this is only truly important because, as of earlier today, its global roll-out is now a reality.
According to the press release, the first flexible smartphone will first reach neighborly Singapore and Hong Kong later this week, but other "key markets in Asia" will also have the device up for grabs by the end of the year. The really interesting part, and we've been anxiously expecting to hear an official confirmation on this one, is LG's statement that the G Flex will "soon" visit other regions, though no specifics were outed.
Those few of you who might be living in the city-state of Singapore can place a pre-order from December 8th onward, though Hong Kong locals get the better deal, as they can buy the G Flex directly, starting December 13th.
What this all really means is that you should head straight to our aforementioned
LG G Flex hands-on
and take a long look, as the bendy 6-incher may soon be available at a location near you.
LG G FLEX BEGINS GLOBAL ROLLOUT WITH INTRODUCTION IN KEY ASIAN MARKETS

World's First Curved, Flexing, Self-Healing Smartphone Available For The First Time Outside Korea

SEOUL, Dec. 4, 2013 — LG Electronics (LG) is introducing LG G Flex, the world's first curved flexing smartphone, to the global market starting in Singapore and Hong Kong this week. Key markets in Asia will also announce the availability of this innovative device before the end of the year, soon to be followed by other regions.

The LG G Flex has captivated early adopters everywhere as the first smartphone curved to follow the contour of the human face, made possible with the implementation of the world's first curved smartphone battery. With a durable plastic OLED (P-OLED) HD display, the G Flex also comes with a self-healing back cover that eliminates those day-to-day scratches, making it the first smartphone to incorporate such technology. These innovative features have earned LG's latest smartphone significant praise and accolades from major media outlets worldwide.

Customers in Singapore will be able to place their pre-orders for LG G Flex beginning December 8. In Hong Kong, the device goes on sale starting December 13 and will be available through major carriers and leading electronics retailers.

The vertically curved G Flex is the latest device in LG's premium G Series and incorporates proprietary innovations from other LG companies such as LG Display and LG Chem. The curved 6-inch Real RGB P-OLED display was developed specifically for the G Flex and is the largest of its kind in the world. The 3,500mAh curved battery from LG Chem was also developed with LG G Flex in mind and is also a world's first.

# # #

About LG Electronics Mobile Communications Company

The LG Electronics Mobile Communications Company is a global leader and innovator in mobile communications. With its breakthrough technologies and innovative designs, LG continues to establish a number of benchmarks in the smartphone market, while also helping create a better lifestyle for consumers by delivering a wholly enhanced smart-phone experience. As a leader in 4G Long Term Evolution (LTE) technology, LG continues its commitment to developing groundbreaking LTE technologies and fulfilling consumer demands with differentiated LTE devices of the highest quality, all of which are based on the company's wealth of LTE patents and technical knowledge. For more information, please visit www.LG.com.

Media Contact:

LG Electronics, Inc.

Ken Hong

+82 2 3777 3626

ken.hong@lge.com

www.LGnewsroom.com