The European version of the LG G2 to come with a separate case that supports wireless charging
3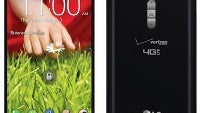 As one of the most anxiously awaitedsmartphones accordingto many, the news that wirelesscharging for the LG G2 will be a Verizon-exclusive sent a ratherunpleasant jolt down fans' spines. If you find yourself within thoseranks and live in Europe,rest assured that LG seems conscious of the unfair divide and hastaken some steps to resolve this.
Reachingout to Pocket-lintonThursday, an LG spokesperson has confirmed that while the Europeanversion of the G2 won't have wireless charging built-in, a separatecase will be made available that will support it. Although, strictlyspeaking, unconfirmed, we do expect the caseto make use of the Qi standard, just like the Verizon version.Pricing and availability are similarly unknown.
Obviously, this is a compromise and not as optimal a solution, butit's better than nothing, granted LG manages to come up with anappealing design for the accessory. Given that most of you wouldprobably opt for some external protection of LG's new beast, then itcertainly would make sense to pick one, should you find yourselffancying wireless charging.
source: Pocket-lint