The 16 GB Moto G (2015) is already sold out on Moto Maker
16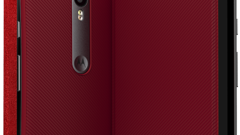 The 2015 edition of the mid-range
Motorola Moto G
was only
unveiled last week
, but it's quite clear that demand is outstripping supply. As a company, Motorola seems to have hit the sweet spot in peddling strong features at an agreeable price, and while the new G in town is no powerhouse, it's an undeniably great bundle for the outlay. The Moto Maker system allows buyers to customize the finer details of the device's exterior before purchasing, with multiple different combinations of finish achievable. But if you were hoping to tailor yourself a 16 GB version of the Moto G through Moto Maker, you've missed the boat for the time being.
The variant with 16 GB of on-board real estate and 2 gigs of RAM is listed as sold out for now, and given that we're such an early stage in the new Moto G's lifespan with the first wave of shipments, this fact is unlikely to change for the time being. Instead, you're stuck with the 8-gig edition harboring a miserly 1 GB of RAM. If you can't wait, you could always opt for that lower-end variant, but if you plan on using the handset long term, it'd be wiser to wait it out and hope that Motorola restocks quickly.
Away from Moto Maker, you can snag the Moto G (2015) through retailers like Amazon and Best Buy, although again, you're only looking at the 8 GB model for now. The fact that you get a microSD card slot means that you could perhaps survive with the inferior version. But if you're an app hoarder, more storage is crucial, since you can't move certain apps to your SD card without first gaining root access.
With a starting price of $179.99, Motorola has once again demonstrated why it has such a keen following throughout the Android community. For more information, check our
review of the Moto G
, and if you can suffer the 8 GB version of the new mid-ranger, be sure to click on that source link.