Test pictures from Samsung Nexus S found online
1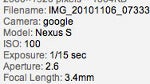 Three random pictures, found on Picasa, were revealed to be the results from testing the camera on the Samsung Nexus S, also known as the Google Nexus Two. Two of the snapshots look like a fuzzy shot of a UFO in the night sky while the third looks like a picture snapped to test the color fidelity of the camera.
While the pictures are nothing to rave about, clicking on them gives out the information that they were taken with a camera called "google" with a model number of "Nexus S". The three have a 2560 x 1920 resolution which corresponds to a 5MP camera. And wouldn't you know it, the Samsung Nexus S, the GT-i9020, is expected to come with a 5MP camera on the back.
As we
reported
the other day, the Google Nexus Two has been delayed allegedly because of a serious hardware problem. But as we pointed out, the
speculation
is that Samsung has decided that it had to launch the model with a dual-core processor to catch up to the Tegra 2 powered models that the competition will rollout early in 2011. And because Android 2.3 is not yet optimized for a dual-core processor, the Korean based manufacturer needs to wait for Google to deliver a revised Gingerbread version of the Android OS.
While we have no idea when this handset will be released-Samsung would like to see it come out in time for holiday sales-at least we know that the camera is being tested.
source:
TechCrunch
Recommended Stories