Telegram updated with new invitations system, better replies and favorite stickers
1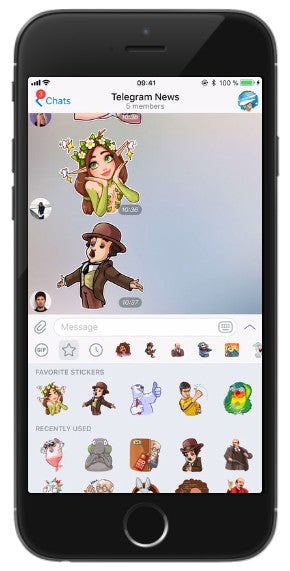 Favorite Stickers
The team behind
Telegram
, the messenger service that gained a lot of traction in the last couple of years, has just announced a new update is now available for Android and iOS users.
Among the most representative new features included in the update is the new invitational system, which allows users to invite their friends who don't use Telegram to join the messaging service.
A new "Invite Friends" category is now accessible via Contacts, so you will now see all your friends who don't use Telegram but have many friends who do, on top of the list so that you can invite them faster and easier.
Furthermore, the update adds "Favorite Stickers," a new feature that allows
Telegram users
with five or more sticker sets installed to mark individual stickers as "favorites" so that they can access them from the top of the sticker panel in the "star" category.
Also, Telegram 4.3 improves the reply system, which means that whenever someone replies to you or mentions you in a group, you will now notice it immediately by the "@" badge showing up in the chats list.
Finally, Twitch videos are now supported in the Telegram built-in player, which will allow users to watch streams in PiP (Picture-in-Picture) mode while chatting. A new indicator for signal strength has been added so that users can check it when on a
Telegram voice call
.
iOS users will now be able to edit any photo that's been pasted directly to a chat from clipboard before sending, whereas Android users can long tap to select multiple recipients when forwarding a message.