Telefonica to get exclusive 64GB Nokia Lumia 1020 for European and Latin-American markets
29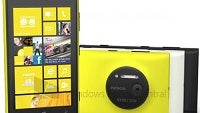 In a
few short hours we will be learning what Nokia and presumably AT&T have up their sleeve
for the device codenamed "Elvis." The
Nokia Lumia 1020
(perhaps you know it by another noms de guerre, like EOS, Eros, Nokia 909, et al, take your pick) will land in the US at least sporting a familiar 32GB storage capacity like its Lumia 920 and Lumia 928 cousins.
Of course the device is all about the camera, and taking photos with the settings maxed out will take up huge amounts of space. Since the device will not accept microSD cards, users will need to have a plan in place with cloud storage as well as backing items up on their main computers.
One way to get some breathing room with such a beast of a camera is to have copious amounts of storage and it looks like Telefonica's brands in Europe and Latin-America will have exclusive dibs on just that, a
64GB Nokia Lumia 1020
. The device will launch in September and be an exclusive for customers of Movistar, Vivo, and O2 through the remainder of 2013.
Telefonica's press release calls the device the
Nokia Lumia Eros
, and is part of a global agreement between Nokia and Spain based global carrier to be announced on July 11th. The release states:
"Telefónica today announced a global agreement with Nokia to sell Nokia Eros 64 Gb exclusively to Movistar, Vivo and O2 customers in Telefonica markets during 2013. The smartphone will be launched this September.

This announcement is part of the Telefónica strategy to reinforce the smartphone portfolio and increase the ecosystem offer for their customers. Telefónica will actively promote Nokia Lumia Eros 64Gb, as part of Telefónica iconic smartphone offering.

Nokia Lumia Eros brings stunning innovations only found in the SLR cameras so far, like a 41 Mpixel sensor, 6 lenses, and high resolution zoom. Taking excellent photos has never been so easy, as complex settings are turned into easy adjustments with immediately visible results.

Eros 64Gb, for Telefónica customers, will have more than double capacity than the Eros standard version, extending the capability for customers to store large amount of content, up to 4,000 images or 6 hours of very high quality Full-HD video.

…of Telefónica, said "Telefonica is firmly committed to deliver the best and exclusive experiences to our customers as part of our connected smartphones offering. This moves us one step ahead, and reinforces our leading position in front of the consumers looking for the best proposals."
source:
WPCentral