TeleNav introduces GPS/search-based advertising platform
0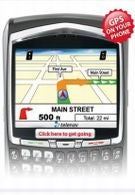 TeleNav
, the maker of dedicated GPS units and smartphone GPS services has announced a new advertising program. Their new location-based advertising will market relevant ads to consumers based on their location, as well as their search criteria.
The service will also provide valuable information to advertisers, such as the 'Drive-to-Rate'. This will let advertisers know what rate of those presented with the ad also go to its location, rather than only telling them if the consumer opened the ad. The service will obviously still provide feedback such as click-thru rates and call response.
Users of TeleNav services log 700,000 minutes on the application and view 40 million mobile search pages every month. TeleNav reports that 84% of that usage occurs while driving a vehicle. With these figures, TeleNav stands to be prime advertising real estate despite heavy competition from other services.
TeleNav is the exclusive navigation provider for Sprint, but faces competition from the likes of Google Maps Navigation and
Nokia Ovi Maps
. As an advertiser, TeleNav might be late to the game, pitted against
Foursquare
and others' location-based advertising.
source:
TeleNav
via
FierceMobileContent