TeleNav "OnMyWay" app sends out alerts when you're running late
1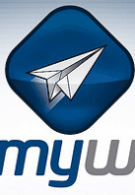 Ever find yourself late for a meeting because of traffic, and when you arrived at your destination, your party had gone? Sure, you might have tried to send out a text, but tapping out a message while driving is a big no-no! TeleNav has come up with an app that will handle a situation like this. The company, known for its navigation software for AT&T and Sprint, has developed "OnMyWay". With this app, if you are running late, the software will spring into action and send out a text or e-mail with a new ETA, to a pre-selected group of recipients.
Setting the app is a matter of taking care of a few simple steps. Enter your destination and expected arrival time, input a list of recipient's text or e-mail info, and you are then ready to hit the road. You can also add a personal message for some of the recipients and no one will know your location except yourself.
So no longer will you need to fumble for the phone to send out a text while you are driving, or curse at the traffic light for turning green while you are in the middle of writing out your excuse. Already available for the BlackBerry platform, starting today "OnMyWay" can be downloaded on your iPhone or Android phone for free from the App Store or the Android Market respectively.
source:
AndroidGuys
,
TUAW