Tablets with the best battery life
32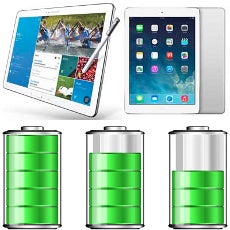 We have a new kid on the battery endurance block, and it is Samsung's
Galaxy NotePRO
tablet. The huge 12.2" slate has an equally impressive 9500 mAh battery, that kept it ticking for nearly nine hours on our demanding battery test. That's more than any other phone or tablet we've tested so far, so we thought we'd share the festivities.
Android tablets are generally expected to last between 8-10 hours of watching HD video on a charge, at medium brightness. Apple's iPads manage to clock 10-12 hours in the same scenario. Until recently, Windows-based tablets were lagging far behind in battery endurance, but with the advent of
Intel's new Atom
, and mobile Haswell architectures, they managed to almost close in on Android slates.
The NotePRO, however, is in a league of its own, when it comes to battery endurance, and if you want to know the next few tablets in the battery champs category, check out the slideshow below. There are a few new tablets yet to be tested, so these results might be rearranged pretty soon, too.