TELUS is now selling the BlackBerry Torch 9800 for $199.99 with a 3-year contract
0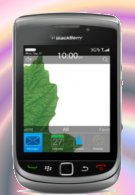 Rogers customers might have been
feasting all day yesterday
since the carrier officially launched the BlackBerry Torch 9800, but now it looks like that TELUS customers will have their turn.
The carrier has opened the gate for RIM's next generation smartphone as it can be purchased for $199.99 with a 3-year agreement. Sure that's exactly a year more on contract than what AT&T customers are subjected to with the purchase of the same hardware, but it's by far the most inexpensive option for TELUS customers.
However, the pain of being tethered to a contract can be lessened by either choosing to go with a 2-year contract for $499.99, 1-year for $549.99, and the no-contract price of $599.99. At those extravagant prices though, that 3-year commitment does look a bit better on the wallet in the near term.
RIM BlackBerry Torch 9800 Specifications
|
Review
via
Mobileburn