T-Mobile's Samsung Vibrant is given the instant price of free online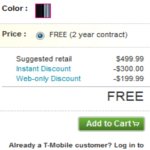 If you've taken a look at T-Mobile's web site of late, you're probably aware about the
fantastic deal going on with the Samsung Vibrant right now
.
Six months since it first busted out of the gates bringing forth Galaxy S love all around, we find it at the impressive and attractive
price of free
with your signature with a 2-year agreement. Now this isn't a deal that's being offered through carrier stores nationwide, so you'll need to place your order online to get its price down to that no cost required level. Sure you've got a similar offering with the Google Nexus S, but we'd imagine that the free price tag associated with the Samsung Vibrant will easily bring customers to its grasp.
Even more, it's easily recommended over some of the other entry-level smartphones or vast offerings of feature phone available right now on the carrier's lineup.
source:
T-Mobile