T-Mobile says it has had 15 times its usual trade-ins of BlackBerry models over the last two weeks
37
A tweet from T-Mobile CMO Mike Sievert reveals that the nation's fourth largest carrier has had 15 times the usual number of BlackBerry related trade-ins over the last two weeks. The genesis for all of this started in the middle of last month when
T-Mobile sent out promotional emails to its BlackBerry owning customers
, trying to get them to switch to the
Apple iPhone 5s
.
That led to some
back and forth between an unhappy BlackBerry CEO John Chen and T-Mobile CEO John Legere
. The latter displayed his usual Legarian wit by saying that
he couldn't find Chen on Twitter, but would look for him on My Space
.
Eventually,
T-Mobile agreed to a trade-in deal,offering $200 in trade for any working BlackBerry
that can be used toward the purchase of any phone on T-Mobile's lineup. Those purchasing a new BlackBerry phone received another $50 off. And according to Sievert, the deal was a resounding success for T-Mobile. The trade-in offer ends this Wednesday.
Now let's hope we can get John Chen and John Legere to shake hands and make nice.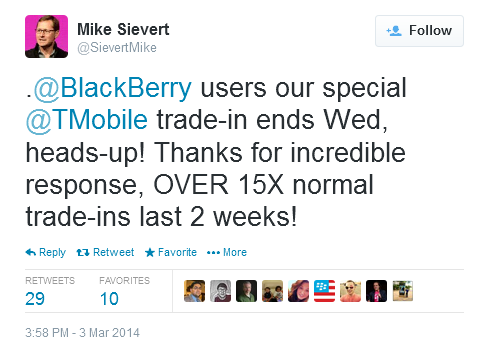 Tweet from T-Mobile CMO Mike Sievert reveals the success of the BlackBerry trade-in offer
source: @SievertMike