T-Mobile offers the LG G Pad F 8.0 for free to mark Father's Day
6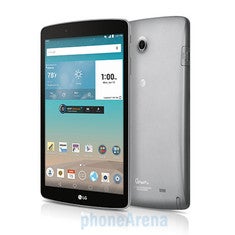 Every holiday or significant event doubles up as an opportunity for retailers to run promotions, and with Father's Day incoming, tech companies will begin to offer deals on gadgets that fathers may appreciate. T-Mobile believes that the
LG G Pad F 8.0
is the perfect Father's Day treat, and as such, is giving the tablet away for free to customers signing up for a 24-month contract.
$10 per month for two years seems a small price to pay to put a smile on your dad's face. And hey, just because it's Father's Day weekend, there's no reason why you can't pick this tablet up for yourself. Within the $10/mo plan, you get 1 GB of data to eat through, but if you or your father require more flexibility, you'll naturally have to pay extra per month for one of the beefier packages.
If you cancel the subscription at any point, you'll still need to pay out the rest of your contract, up to a total cost of $239.76. Even if you do buy the slate upfront, it's a reasonably good deal, given that you get a 1.2 GHz quad-core processor, 16 GB of expandable storage and an 8-inch, 800 x 1280 display. The G Pad F 8.0 also includes a 5-megapixel rear camera allied to a 2-megapixel helping for selfies, and runs on Android 5.0 out of the box.
Sure, there are arguably more tempting alternatives out there, especially given that
Samsung's Galaxy Tab S 8.4
Wi-Fi
dropped to just $259
earlier this week on Newegg. But for a cellular tablet with continual (albeit minimal) data, it's a solid all-round package, and if interested, you can find out more at the source.