Deal: Samsung Galaxy Tab S 8.4 Wi-Fi can be had for just $259
3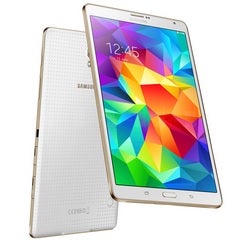 Less than a month ago, the
Samsung Galaxy Tab S 8.4
Wi-Fi
dropped to just $279
, which was a bargain in itself. Now, for a limited time, you can snag this great slate for a mere $259 at Newegg, which seems a no-brainer for anyone in search of a strong, medium-sized tablet.
We're still waiting for the elusive
Galaxy Tab S2 8.0
and
Galaxy Tab S2 9.7
, which will probably be announced at some point this month. It's no coincidence that older models, like the Galaxy Tab S 8.4, are now the subject of substantial price cuts with newer versions on the horizon. With that said, we live at a time in which annual upgrades are the norm, and while this makes it difficult for us to keep up with the latest and greatest, it does mean that relatively new, powerful products like the Tab S 8.4 go cheaper sooner.
The Tab S was announced just over a year ago now, but in terms of both specs and general performance, it's far from antiquated. It packs an eight-core Exynos 5 Octa 5420 processor, 3-gigs of RAM and a 1600 x 2560 Super AMOLED display that looks simply gorgeous during real-world use. There's also 16 GB of on-board storage that can be expanded upon by means of the Tab S 8.4's microSD slot.
The
Samsung Galaxy Tab Pro 8.4
, which hit the sub-$200 price point earlier this month,
can also still be snapped up
for $100-off at Best Buy. Suffice to say, if you're on the hunt for a new tablet, Samsung's range is full of cheap-yet-powerful offerings, so act quickly if you want to pick one up for less than usual retail cost.
The $259 Galaxy Tab S 8.4 can be purchased via the source.