T-Mobile could enable Wi-Fi calling on the Google Nexus 6 this weekend
3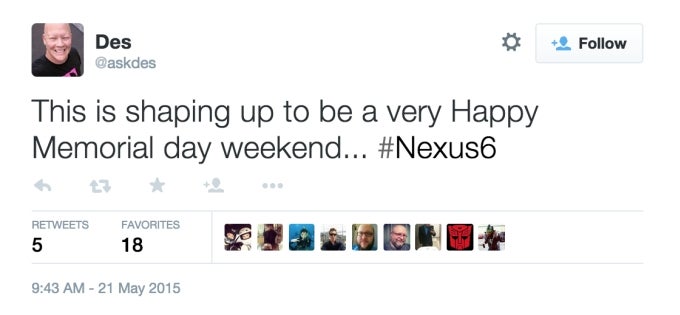 A new Tweet from T-Mobile Senior Product Manager Desmond "Des" Smith hints at the fact that the
Google Nexus 6
will get Wi-Fi calling capabilities this Memorial Day weekend. Although Smith doesn't specifically mention this, he does imply that the Nexus 6 will make for a happy Memorial Day weekend.
Back on May 12th, Smith announced that a last-minute bug discovery has delayed the OTA update that will bring Wi-Fi calling to the Nexus 6 by up to ten days. As that timeframe is set to expire this weekend, connecting the dots seems to be an easy task to accomplish.
Back in October 2014, T-Mobile announced that it will be the only US carrier to enable
Wi-Fi calling on the Google Nexus 6
. Back then, the feature was said to be enabled at some point in early 2015, but it looks like the carrier has stumbled into a few problems in the process.
Carrier-enabled Wi-Fi calling is a pretty sweet feature if you live or work in places where you have access to a Wi-Fi network but generally poor carrier signal. The feature will allow the Nexus 6 to place calls through the Internet when the mobile signal isn't strong enough to place a call.