T-Mobile continues red hot, adds 1.65 million subscribers in fourth quarter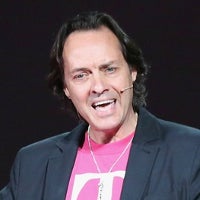 T-Mobile remains red hot. On the day that the innovative carrier
announced a plan to pay the ETF owed by Verizon, Sprint and AT&T customers
jumping to T-Mobile, the carrier announced that it added 1.65 million new subscribers in the fourth quarter. That follows
a gain of 1 million that the operator reported for the third quarter
. The company will report its official earnings on February 25th. The numbers announced today are preliminary figures.
T-Mobile added 869,000 postpaid customers in the quarter, up from the 648,000 reported in the third quarter and a vast improvement from the 515,000 customers it lost in that category a year earlier. There are now 46.7 million subscribers using T-Mobile. 800,000 of the postpaid additions were for customers using a phone, while the remaining 69,000 were mostly tablet users. T-Mobile recently started a new plan that
gives those with a tablet 200MB of free data a month
.
For the entire year, the carrier added 2 million new subscribers, above estimates of between 1.6 million and 1.8 million. Fourth quarter postpaid churn was 1.7%, down from the 2.5% reported the previous year. Prepaid churn rose to
5.1
% from 5% sequentially and 4.9% year-over-year.
source: T-Mobile