T-Mobile brings a mini 4G LTE cell tower right into your home or office with its 4G LTE CellSpot
42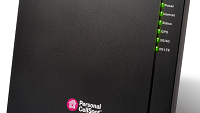 How would you like to have an LTE cell tower right in your own home or office? T-Mobile is "Amping" up Un-carrier 7.0 by becoming the first mobile operator to offer a femtocell with 3G/4G service and VoLTE capabilities. Called the T-Mobile 4G LTE CellSpot, it covers 3000 square feet with T-Mobile's 4G LTE signal. And your phone will have all of its signal bars lit up.
Besides VoLTE, the 4G LTE CellSpot will allow users to use HD voice, advanced messaging, video calling, and fast data. Unlike the Wi-Fi CellSpot Router that was the focus of Un-carrier 7.0, the new femtocell does more than just offer calls and texts over Wi-Fi. The 4G LTE CellSpot will bring the entire T-Mobile network experience to your home or office. 16 callers at one time can use the signal generated by the device.
"Where the T-Mobile Wi-Fi CellSpot's like a T-Mobile tower, this new 4G LTE CellSpot is a T-Mobile mini-tower—and it's a huge feat of engineering. The big difference between us and the carriers is that they'll do absolutely everything they can to bleed you dry. We'll do absolutely everything we can and use every proven technology available to give you the best coverage possible."-John Legere, CEO, T-Mobile
The 4G LTE CellSpot measures 8.5-inches x 8.5-inches x 1.3-inches, so you can find a place for it anywhere. All you need to do is connect it to the internet, plug it in, and you're ready to go. The device will be available from T-Mobile stores starting on Wednesday, at no cost to Simple Choice subscribers. A $25 deposit is required.
source: T-Mobile