SwiftKey 3 in Beta, eliminates need for the spacebar with new feature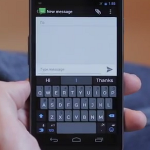 One of the most popular third party virtual keyboards available in Google Play is SwiftKey. The new generation of the QWERTY is in beta and SwiftKey 3 offers a new feature called Smart Space that is said to
eliminate the need for a spacebar
. The word from the creators of SwiftKey is that it prevents "miss-typed or omitted spaces across whole phrases" using a powerful auto-correction feature. Combined with the software's text-prediction capability, you have a tool that allows you to type quickly and with accuracy.
For those that don't trust the Smart Space technology, SwiftKey 3 does offer a huge spacebar. And the latest version of the app offers support for new languages like Korean, Estonian, Farsi, Icelandic, Latvian, Lithuanian, and Serbian. This brings the number of languages available to SwiftKey users to 42. That is the good news. The bad news is that the Beta test is limited to the 30,000 souls who signed up to be in SwifyKey's VIP program, so you won't find this version in Google Play, at least for now. But wait! There is some more good news and that is
you can still register for the VIP program now
and then sign up for the Beta. Isn't it amazing how things work out sometimes?
source: SwiftKey via
Phandroid
Next Generation Auto-Correct; SwiftKey 3 Beta LaunchesA major leap forward in touchscreen typingBeta release available to SwiftKey VIPs at http://vip.swiftkey.netLONDON, April 4, 2012: SwiftKey 3, the latest-generation of the award winning keyboard app for Android devices, is now available as a free beta release to SwiftKey's passionate community of over 30,000 VIP users.SwiftKey (http://www.swiftkey.net), which recently won the Most Innovative App at the Global Mobile Awards in Barcelona, has packed the latest release full of fantastic new features and updates, including:Smart Space - a major leap forward in auto-correction technology, Smart Space adds to SwiftKey's already cutting edge correction by detecting miss-typed or omitted spaces across whole phrases of poorly typed text in real-time. SwiftKey now offers the most accurate and complete auto-correction available on a smartphone or tablet.Two new themes - a new theme, 'Cobalt', to match SwiftKey's new look and feel, and an Ice Cream Sandwich-styled 'Holo' theme, as voted for by SwiftKey's VIP community.An enhanced UI - a much larger space bar and smart punctuation key help improve accuracy and make it quick and easy to access common punctuation.Additional languages - SwiftKey 3 now offers support for an additional seven languages, bringing the total up to 42. The new languages are Korean, Estonian, Farsi, Icelandic, Latvian, Lithuanian and Serbian.New punctuation functionality - intelligent, language-specific punctuation handling (for example, spaces between words and certain symbols in French, such as 'Bonjour !').In addition to these key updates, SwiftKey 3 includes core improvements such as backup of learned language data and improved options for users to customize auto-correction features.This SwiftKey 3 Beta is only available through the SwiftKey VIP community, which new members are welcome to join now for a limited time only athttp://vip.swiftkey.net. SwiftKey's development team will be working closely with the community to gather feedback and make improvements.