Survey shows that consumers are mostly interested in Apple or Samsung handsets
66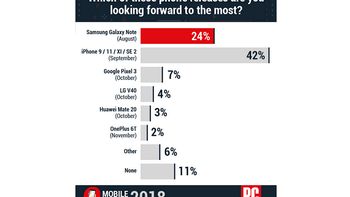 PC Mag
recently asked 1,555 U.S. consumers which upcoming handset they were most interested in seeing released. The recently unveiled
Samsung Galaxy Note 9
, which will be launched on August 24th, did not finish on top, but still was the handset most on the mind of 24% of those responding to the survey. That was good enough for second place. On top was the 2018 Apple iPhone lineup, with the trio of new iOS phones garnering the most interest among 42% of those who answered the survey.
Now here's the bad news for those smartphone manufacturers not named Samsung or Apple; 11% of the respondents, good enough for third place, said that they weren't looking forward to any of the upcoming new smartphone releases. So we have two-thirds of those surveyed stating that they are looking forward to the latest from Apple or Samsung, and the rest of the field lags behind. This is why companies like LG and HTC are at a major disadvantage even before they start designing their next flagship phones.
The
Google Pixel 3
/
3 XL
were next, with 7% of the 1,555 asked saying that the next-generation Pixels are the handsets that they are most looking forward to seeing released. The next three phones on consumers' included the
LG V40 ThinQ
(4%), the
Huawei Mate 20
(3%), and the OnePlus 6T (2%).
Although Samsung's hot new device finished second, there is a chance that some current iPhone users have their eye on the Galaxy Note 9; 76% of those interested in the latest Galaxy Note model already own a Samsung handset, but 8% sport an iPhone. The survey also revealed that only 3% of those eagerly anticipating the Galaxy Note 9 said that they would pre-order the model, and only 2% said that they would purchase it as soon as it becomes available. 12% said that they will peruse the reviews during the next few months before they decide whether to buy the device, and 28% replied that they will wait for their next update to pick up the Galaxy Note 9.
Recommended Stories