Stats show that the Apple iPhone 5c is driving buyers to the Apple iPhone 5s
16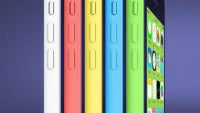 While you might think to yourself during a moment of solitude, that the
Apple iPhone 5c
is a total sales failure, the truth is that the revamped
Apple iPhone 5
is actually doing its job. According to stats from Consumer Intelligence Research Partners, derived from a survey of 500 Apple device buyers, the
Apple iPhone 5s
made up 59% of the iPhone market in the fourth quarter of last year. That was above the 50% that the then flagship Apple iPhone 5 owned during the same time period in the previous year.
At the same time, the midrange Apple iPhone 5c commanded 27% of the iPhone market in Q4 of 2013. That was lower than the 32% owned by the then midrange
Apple iPhone 4s
during the same time period in 2012. The reasoning seems convoluted, but the thought here is that the iPhone 5c did a better job in migrating iPhone buyers to the higher priced iPhone 5s. And buyers seem willing to spend the extra money to buy the iPhone 5s variants with more storage capacity.
"The design update worked for Apple, since the would-be mid-priced [iPhone] 5 customers seem to have migrated to the higher priced flagship 5s. The jury is out on how successful the 5c was in attracting new customers, but we do know that Apple increased the average selling price of iPhones overall."
-Josh Lowitz, CIRP
CIRP analyst Josh Lowitz pointed out that since the average price of iPhones purchased in 2013 rose, Apple's strategy worked. And when asked a hypothetical question about what would have happened had Apple kept the iPhone 5 as its midrange model Lowitz concludes that it would have outsold the iPhone 5c since midrange legacy Apple iPhones have historically sold well. All in all, the stats all seem to have the same conclusion, which is that the Apple iPhone 5c has forced buyers to move up to the Apple iPhone 5s.
source:
re/code
via
BGR