St. Valentine's Day Gift Guide: US
0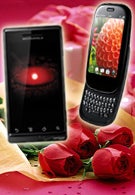 You may be thinking there is more than enough time until February 14th... but we tell you, time does fly. You won´t even notice until it has slipped away and the day dedicated to love and romance has arrived, the very same day when love fills the air and the prices of flowers sky-rocket.
Your loved one will probably not send you packing if you show up at their door with just a bunch of flowers in your hand. However, you can certainly make them blissfully happy if you throw a present into the deal, right? Some people opt for heart-shaped boxes of candies, especially that tasty chocolate variety we would personally never turn down, others go for sweet things like cute, plush toys or take a pragmatic approach to the problem and come up with a domestic appliance. In our opinion, quite naturally of course, your best option is nothing but a cell phone. It gives you the opportunity to, erm, kill two birds with one stone so to speak, because you will have the perfect excuse to call the person that has captured your heart (or the larger part of it) more often, while on the other hand they would probably be delighted over the new toy and not last, the chance to show off to their friends. The thing is there is an abundance of cell phones on the market today and time never stops. That is why we decided to compile a list of recommended handsets, grouped by categories, to help you out with the tricky predicament and save you time.
Still, keep in mind that a proper present is never complete until you´ve enclosed a personal, heart-warming message.