Palm Pixi Plus Review
3
Palm Pixi Plus Release Date -
Jan 25, 2010

This is a short review of the Palm Pixi Plus for Verizon Wireless. It shares many features with the Palm Pixi for Sprint, which has a more in-depth review that can be viewed here.
Along with their release of the
Palm Pre Plus
this week, Verizon is also introducing the Palm Pixi Plus, but unlike the Pre Plus which has more memory and RAM over the original Sprint model, the
Palm Pixi Plus
only adds Wi-Fi connectivity. Because of this, both Pixi models on Sprint and Verizon are basically identical in terms of design and usability.
There's no way around it – the Pixi Plus is small. It is slightly taller than the Pre Plus (when closed) but isn't nearly at thick and also weights less. The device fits comfortably in the hand with the soft-touch coating on the back, though it doesn't feel as oval as the Pre Plus, and its slim design means it can be tucked away in your pants' pocket without even being noticed.
The
display
on the Palm Pixi Plus remains at 2.63-inch diagonal with 320x400 resolution and 262K color support. Naturally, images on it don't look as large or sharp as ones from the Palm Pre Plus,
HTC DROID ERIS
, or
Motorola DROID
, but it is still sufficient for a smartphone of this size. As you can guess, the
QWERTY keyboard
is also compact, with the buttons being smaller and closer together than the keyboard on the Pre Plus. It is still useable and provides good feedback when pressed, but people with larger hands will most likely have a difficult time with it and may want to look elsewhere. Along the
sides
are the volume rocker, power/lock button,
3.5mm headset jack
, microUSB port, and phone silence switch. The external speaker, 2MP camera and LED Flash are on the
back
. Internality there is 8GB of memory for you to store files and 256MB of system RAM; the same amount as on Sprint's Pixi. You can also purchase the optional touchstone charger and battery case.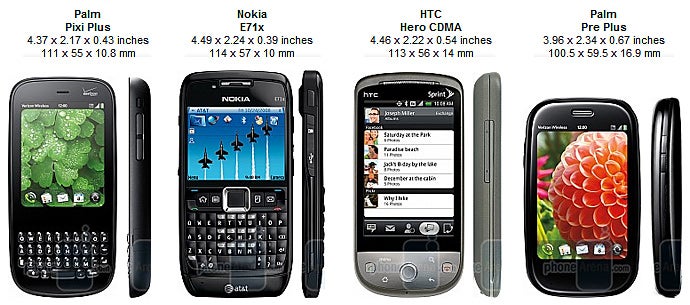 You can compare the Palm Pixi Plus with many other phones using our
Size Visualization Tool
.
Since the Palm Pixi Plus uses the
webOS 1.3.5.1 operating system
(which is also found on the Pre Plus), we won't go into great detail covering it here; as launching apps, such as the web browser, email, messaging, phonebook, calendar, and connectivity are all the same. Needless to say, they work quite well together, as it integrates your personal
contacts
with ones from Google Talk, AIM, and Facebook. However, we started to notice some lag once we had 10 cards open on the homescreen, while the Pre Plus handled 30 cards without problem. The Pixi Plus includes Google Maps,
VZ Navigator
,
Doc Viewer
and PDF Viewer; all of which are also found on the Pre Plus. Furthermore, you can turn the Pixi Plus into your personal 3G Mobile Hotpot, with up to 5 Wi-Fi devices connected to it at once, but it will cost you $40 per month on-top of your voice & data plan.
The Palm Pixi Plus includes a
2MP camera
, which is a step-down from the 3MP camera on the Pre Plus, though both share the same simple interface. Images taken outside with the Pixi Plus also look worse, due to poor color representation and inaccurate exposure, which makes them darker and "muddy" looking. Indoor images don't come out great either, and the flash might as well not even be there.
Call quality
was good, almost as clear as on the Pre Plus, but there was some distortion if the earpiece volume was turned all the way up, though it was only minor. Reception also matched that of the Pre Plus with 2-3 bars showing during calls and 5 bars of EV showing while using data.
The Palm Pixi Plus is a nice smartphone overall and is ideal for people who want a small device without sacrificing features – not to mention that webOS is easy to use. What could have made it even better is if it came with more memory and RAM, matching that of the Pre Plus, but it's okay the way it is.
Palm Pixi Plus Video Review:
Palm Pixi Plus 360 Degrees View: Recommended Stories