RIM BlackBerry Curve 8530 Review
4

BlackBerry Curve 8530 Release Date: November 20, 2009

Introduction:
Design:
The
BlackBerry Curve 8530
is identical to the 8520 we reviewed several months back. It is slightly taller than the 8530, but narrower, thinner and lighter. Overall it feels like a much smaller device in your hand. It is very plasticy however; we won't go as far as to call it cheap feeling, but RIM is really toeing the border here. The size fits nicely in your hand though.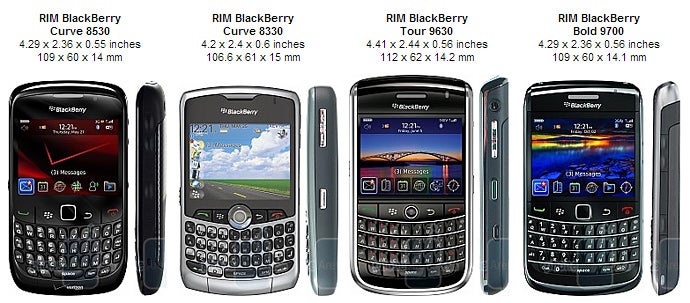 You can compare the RIM BlackBerry Curve 8530 with many other phones using our
Size Visualization Tool
.
The
2.4" display
has a resolution of 320x240 and 65K colors, the same as the original Curve. It sits above a typical RIM
QWERTY
keyboard with a design similar to the
8330
, which is to say individual hard plastic keys as opposed to the softer keys of the 9xxx series. What sets the two devices apart is that the 8530 replaces the trackball with an optical trackpad. The 8520 was the first RIM device we saw with this, but we've seen it on all RIM devices since save the trackball/pad-less 95xx series. The trackball wasn't perfect, but we're far from being crazy about its replacement. We definitely appreciate the sensitivity options, but no matter what we have it set to we just can't be as precise as with the analog ball.
The
keyboard
is virtually identical to the the 83xx series with small plastic keys. It is better than most on the market and easy enough to type on, but it just can't compare with the amazing QWERTYs found on the 9xxx series. Along the
left side
of the phone is the 3.5mm headset jack, microUSB charging/data port and one convenience key.
On the right
is the volume rocker and second convenience key. As found on the 8520,
the top
houses media playback keys, a touch we appreciate. The
battery door
features a nice looking carbon fiber finish, which is the only visual difference from the 8520. The 2.0 megapixel camera sits just above the door.
The Curve 8530 definitely feels entry level, more so than the Curve 8330. The original Curve still felt like a BlackBerry, but something about the size and weight of the 8530 makes it feel out of place in RIM's lineup. The device almost feels hollow, and while our pockets very much appreciate the lightness it doesn't pass our litmus test for feel.
RIM BlackBerry Curve 8530 360 Degrees View: