HTC Ozone XV6175 Review
4

Introduction:
HTC Snap
(available with Sprint) and
Dash 3G
(with T-Mobile). The
HTC Ozone XV6175
could be considered an entry-level smartphone, due to the low price, but it comes with some additional features, such as Wi-Fi and can roam internationally on CDMA and GSM networks with the included Verizon/Vodafone SIM card.
Included in the retail package is the HTC Ozone XV6175 smartphone, 1500mAh battery, miniUSB wall charger with international adapters, multifunction audio cable, preinstalled SIM card, CDs and user manual.
Design:
The HTC Ozone XV6175 is a candy-bar style device and looks similar to the
Motorola Q9m
. The
front and sides
have shiny black plastic, but
battery cover
is gray in color. The device has a pleasing size and weight to it, but the parts aren't as high quality as we've seen on other HTC devices, such as the Touch Diamond. For example, the battery cover is pretty flimsily once it's removed and feels like it would break if you squeeze too hard. Located on the left side is the volume rocker and on the bottom is the miniUSB port. Removing the battery cover will allow you access to the microSDHC slot, which accepts up to 16GB memory cards, and the preinstalled SIM card.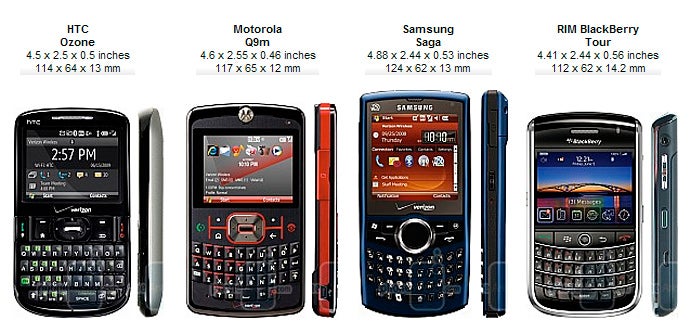 You can compare the HTC Ozone XV6175 with many other phones using our
Size Visualization Tool
.
display
is
2.4
" diagonal, but is limited to 320x240 QVGA resolution. HTC has spoiled us with their high-end VGA displays, but we can understand that one wasn't used here to help keep costs down. Despite this, the display on the Ozone shows text and images well and can be quite bright when the setting is manually turned all the way up.
Directly below the display is the
5-way d-pad
, left and right soft keys, and buttons for send, end, home and back. They share the same shiny black plastic and have pretty good feedback when pressed. However, we don't care for the design of the d-pad's center button, as it is rectangular in shape and makes using the d-pad a little more difficult than a traditional round or square button.
The
QWERTY keyboard
is in four rows and has a better layout that what we saw with the HTC Snap. The Shift key is at the bottom instead of being next to the "A" key, and they are in a straight line instead of being curved. However, this does not take away from the fact that the keys are very small and cramped next to each other. In fact, there is practically no space between them. Because of this, typing long messages can become a chore since your thumbs will start to feel cramped after a while.
HTC Ozone XV6175 360 Degrees View: