Sprint's Samsung Galaxy Tab finally makes a fitting price drop to $200 on-contract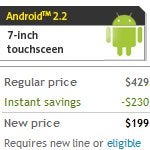 Back last fall, the Samsung Galaxy Tab began its descent into the US market by plopping itself on all four major domestic carriers. However, its acceptance wasn't greeted all that well since its off-contract prices, and even
on-contract ones
, weren't considered to be all that competitive.
Already, we've seen Sprint
drop the price of their variant
over the course of the last few months, but its latest slash might finally be enough to garner some attention from customers. Taking a peek at Sprint's web site this morning, the Samsung Galaxy Tab is now priced at
$199.99
with a 2-year contract;
$429.99
no-contract.
Now there are many possible reasons why they dropped the price, whether it is due to newer tablets coming to market or just simply a natural price drop due to its shelf life, regardless, it's definitely at a price that's finally regarded as presentable. Then again, we may very well see it dropped down the road when the competition starts to make its presence known on Sprint's lineup.
source:
Sprint