Sprint starts throwing frozen yogurt at the EVO 4G next week, with cherries on top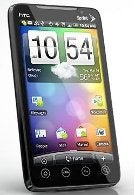 Sprint posted a press release that it's beginning to issue the Android 2.2 update to the HTC EVO 4G users starting next Tuesday. The carrier will be finished with the update by mid-August, but it is not bringing only Froyo goodies such as the ability to run apps from the memory card, and Flash 10.1. There is more.
The new firmware also addresses a number of bug fixes and adds new functionalities (which should have been there from the start, but, oh well... ), such as the option to use the LED flash as a video light when capturing night scenes. The crappy 720p HD video issue is being fixed as well, which should make the EVO 4G the well-rounded multimedia device it deserves to be. HTC is also pushing out some more widgets and social networking add-ons like status updates integration with the phone book, and syncing the Facebook calendar events to the phone's default one.
For the full list have a look at the feature slides, and the best part is that you can download the update on demand right now instead of waiting for HTC's notification. Just go to the Settings Menu > System Updates > HTC Software Update and initiate the process manually.
source:
Sprint
via
Engadget