Sprint sets one day sales record thanks to Apple iPhone 4S, AT&T activation mark falls
99+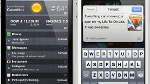 Has offering the
Apple iPhone 4S
and
Apple iPhone 4
for the first time to its customers made a difference to Sprint? Considering that the carrier set a record Friday for
the most sales in one day
, we would say that the answer to that question is a resounding "Yes!" It only four hours for the nation's third largest carrier to shatter its previous sales mark. Fared Adib, Sprint's Product Chief, said, "
Sprint today reported its best ever day of sales in retail, web and telesales for a device family in Sprint history with the launch of iPhone 4S and iPhone 4
". Adib added that the results have surpassed the carrier's expectations.
Earlier this year, Sprint CEO Dan Hesse said that Apple's iconic touchscreen device was
the number one reason why subscribers were leaving Sprint
for AT&T or Verizon. On October 4th, reports surfaced that Sprint and Apple
had signed a $20 billion deal
with the former
buying 30.5 million copies of the Apple iPhone
over the next four years.
Meanwhile, over at AT&T, a record number of Apple iPhones were activated as of 4:30pm eastern time on Friday. In a statement, AT&T said it was
on track to double the previous record for activations
on a single-day. The downside is that AT&T's servers have been so swamped that many Apple iPhone 4S buyers have been staring at a screen for hours, looking at a message that
activation is pending
. Some had been waiting as long as 7 hours to get hooked up to AT&T's network.
Besides AT&T and Sprint,
Verizon also is offering the Apple iPhone
4S. For the latter two carriers, it is the first time that they have been involved in an Apple iPhone launch from the initial release of the device.
source:
AppleInsider