Dan Hesse says that the Apple iPhone is the number one reason why customers leave Sprint
66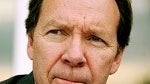 As we
reported
,
Sprint is expected to join Verizon and AT&T
in selling the Apple iPhone. Which version of the device Sprint will be offering is unknown, especially after
speculation arose
that Apple will not be offering an entirely new iPhone 5 this year. Instead, Apple is rumored to be launching a slightly improved version of the Apple iPhone 4 called the iPhone 4S and no other model.. We should know more after Apple's October 4th event, which we
told you
about earlier.
Sprint CEO and television star Dan Hesse spoke about Sprint's financial future at a Goldman Sachs conference. Discussing his estimates for the carrier's future earnings, Hesse didn't exactly mention the iPhone by name, but said, "
If we get it--if--

we may have to adjust our guidance

for that
." Sprint's current guidance to analysts for future earnings does not include the iPhone which the CEO referred to as a "
certain rumored device
."
Hesse earlier told those attending the conference that he would not speak about whether or not Sprint was getting the Apple iPhone, but he did say that
the device is the number one reason why customers leave Sprint
. Which makes it all the more important that the carrier get a variant of the model itself to offer its customers so that they will stay at the nation's third largest carrier.
And to differentiate itself from Verizon and AT&T, Hesse and his staff
have been working hard to keep the carrier's unlimited plan
, even if it starts offering a data hog like Apple's phone. The staff conducts regular meetings under the title "Thinking Unlimited". Hesse added that Sprint believes offering unlimited service is profitable. "
If it becomes unprofitable
," said the CEO, "
We won't offer it anymore
."
source:
CNET