Sprint outs a Green ID Android pack to go with your eco-cravings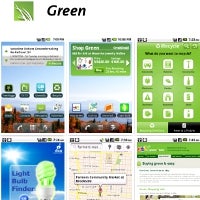 With the eco-friendly
Samsung Replenish
, Sprint also unveiled a new Android pack, called
Green ID
, which will serve as a source of green news and earth-friendly information. It will be preinstalled on the Replenish, but you can dress up your own Android phone or tablet in it, if so inclined.
The
Sprint ID packs
for its Android handsets are in essence topical themes, which vary from sports to business. Green ID sports the Green Now homescreen, which feeds you the latest news from sites like
TreeHugger
, Earth911 and GreenBiz. Other content from these sites will also be featured in apps - for example, you can find the nearest recycling station with Earth 911's
iRecycle
service, or watch videos from Treehugger.
The
Live Green
homescreen provides weekly tips how to satisfy your eco-cravings,
Shop Green
directs you to sustainable manufacturers products and services, and finally the Green ID pack forces you to be proactive with the
Take Action
screen, which presents you with opportunities for volunteering in various eco-oriented actions in your own neck of the woods.
The aforementioned TreeHugger app, and Earth 911's iRecycle have also been included in Android market, so every owner of an Android device can take advantage of them now.
source: Sprint