Sprint lists the HTC Arrive for $200; Amazon asking only $50 for it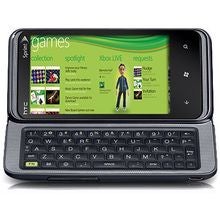 Just as
expected
, the
HTC Arrive
has joined
Sprint
's lineup of smartphones becoming the carrier's first handset powered by Microsoft's Windows Phone 7 operating system. With the exception of the Sprint logo on its front and the CDMA radio under its hood, the HTC Arrive is simply a rebranded version the
HTC 7 Pro
, which has been around for a few months already. Both handsets are virtually identical in terms of looks, software, and hardware.
While browsing Sprint's online store we found out that the carrier is currently offering the HTC Arrive for
$199
after $100 mail-in rebate along with a 2-year contract, which fairly enough may seem a bit steep to some. No need to worry though, because Amazon is coming to the rescue with a price even lower than the $149 it was asking for pre-orders of the device. New Sprint customers who are keen on the HTC Arrive can buy it for
$49
with a 2-year commitment, which coincides with Wirefly's offer and has to be the lowest price you can buy the smartphone for, at least for now.
Existing Sprint subscribers will still have to pay the $149 price tag if they want the HTC Arrive, but that is still a fair price since it is $50 less than what the carrier is asking for. We are not exactly sure whether the
$125 service credit reward
for transferring your number to Sprint still counts or not, but we would recommend double-checking that with the carrier if you are interested.
source:
Amazon
via
MobileWhack