Sprint offers iPhone 7 and iPad Gen 6 bundle for less than $10/month, plus prepaid $50 Mastercard
3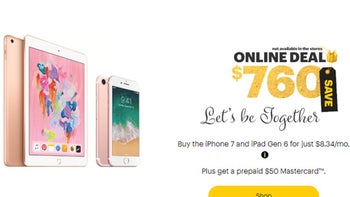 Sprint's Holiday sale is in full swing, but the carrier has added an interesting deal that might appeal to many Apple fans. The "
Let's be Together
" bundle includes the
iPhone 7
and iPad Gen 6 for just $8.34 per month for 24 months.
On top of that, Sprint offers a prepaid $50 Mastercard if you get the deal. You can choose to buy the iPhone 7 32GB or iPhone 7 128GB, as the price difference between the two models is negligible: $4.16 per month and $4.17/month, respectively.
The iPad 6 Gen 32GB gets a massive discount as well, so you'll be able to buy one for just $4.17/month if you purchase it along with the
iPhone 7
. Keep in mind that credits will be applied within 2 bills and if you cancel early, you'll have to pay the rest of the amount. Customers who take the deal will save no less than $760, Sprint says.

As far as the prepaid $50 Mastercard goes, Sprint mentions that it will be sent after 60 days in good standing, so keep that in mind as well. Besides that fact that this is an
online exclusive deal
, it's also a limited-time offer since you'll only be able to get it until December 2.