Sprint Premier customer get first dibs on pre-orders for the Samsung Galaxy Tab
It surely pays to be a long time loyal customer because it enables you to get in with some exclusive opportunities – even more when you're on Sprint. In fact, Sprint Premier customers received a surprising email today from the carrier regarding the opportunity of making a pre-order for the highly anticipated Samsung Galaxy Tab.
Naturally, early adopters would die to have the early dibs on getting pre-orders for the Android powered tablet, but Sprint Premier customers are looking to have really easy on themselves. Going for the 2-year contract price of $399.99, customers will still be required to go with a 2GB data plan that's going for $29.99 per month.
If you're not a Premier customer, you may want to ask around your circle of friends to get your hands on a unit without the worry of waiting.
source:
Sprint
via
Android Central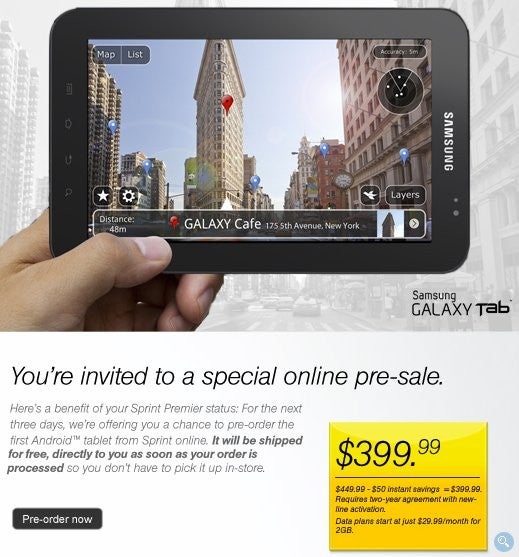 Sprint Premier customers have the opportunity of pre-ordering the Samsung Galaxy Tab.
Recommended Stories