Spotify executives say Apple delayed their entrance into the U.S.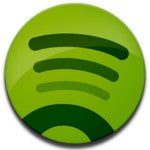 The D10 conference always leaves us with a
few interesting nuggets
of information that otherwise wouldn't come to light. Streaming music service Spotify was asked about their much-delayed entrance into the United States after a successful European debut, and whether or not Apple played a role in dragging out their negotiations with the music industry for almost two and a half years.
While Spotify CEO Daniel Ek demurred to add much, he did say that Apple appeared to feel threatened by their business model. Spotify Director Sean Parker was a bit more forthcoming, saying that "it's a very small industry in a lot of ways," and that they had heard that Apple was working behind the scenes to block or delay Spotify's
entrance into the U.S. market
.
While no other specifics were provided, the two men did indicate that they thought negotiations would take 6-12 weeks to complete, a far cry from the 128 or so weeks that it took to finally nail down licensing agreements. Highlights of the interview are embedded below; if you just want to see the comments about Apple and entering the U.S. they start at the 8:18 mark.
source:
AllThingsD
via
electronista