Apple's CEO Tim Cook speaks at D10: video highlights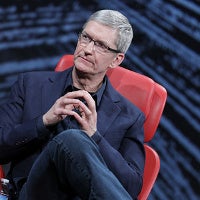 Apple's chief executive Tim Cook
sat down for a lengthy interview at AllThingsD's D10 conference, and while he was very optimistic about future iDevices and services, he managed to keep a tight lip and not spill any specifics about Apple's upcoming products.
Cook left the impression of a composed executive, and didn't shy from carefully thinking before answering some of the questions. He underscored that one thing won't change with Apple under him - the focus on innovation. And that's exactly what Steve Jobs was known for. At the same time, though, Cook made it extra clear that he isn't the "original" that Jobs was, and he didn't see another Jobs coming to the industry anytime soon.
The future products? You already know something about what's coming up - Cook said the company will double down on Siri, and admitted the Apple TV has room for improvement.
One of the most interesting tidbits from the interview is the clear differentiation that Cook made between the iPad and traditional computers, which the CEO continues to see as different products, used for different purposes. Check out the highlights of Apple's CEO appearance on D10 below.