Spotify makes it to the US; streams your favorite tunes on demand
11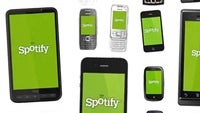 Wow, it seem like this took forever to happen, but
Spotify
, the music streaming service that has been enjoying great popularity across Europe,
has finally made it to the US
. Starting today, those who wish to use Spotify, or its free version, to be exact, can register for the service on its official web page and an invitation will be sent to them eventually, hopefully in a timely manner.
However, there seems to be a way to cut in line, but the thing is that it will cost you. Signing up for a premium subscription will set you back $10 per month, but will let you use the service right away. Besides that, being a premium member will allow you to stream music not only to a computer, but also to an Android smartphone or an iPhone via their respective apps, store it there for the times when you are not hooked up to the Internet, and all of that without any of those pesky ads popping up.
For those of you who have not heard of Spotify before, the service lets you stream music straight from its vast online database and listen to it instantly on a laptop or a smartphone without the need to download the files in advance. Sounds pretty neat, doesn't it? Feel free to check out Spotify's web page and sign up for an invitation. After you receive one, do not hesitate to brag about it by leaving a comment below.
source:
Spotify
via
Boy Genius Report