Spin boredom away with 5 of the best fidget spinner apps and games for Android!
3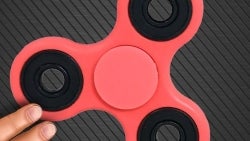 The fidget spinner is 2017's flagship office toy. As if our smartphones weren't distracting enough, out of nowhere came these spinners, slashing productivity amounts by double-digit percentages – under the guise of being nervous energy outlets. These are selling like crazy at the moment, and their extreme (though temporary) popularity has motivated app developers to simulate the toy in virtual conditions.
Thanks to the reasonably advanced physics and graphics processing options of modern
smartphones
, creating a convincing cyber-spinner is a walk in the park. Developers are toying with the concept by creating many varieties of spinners, some of which are only possible in the digital realm. They are also adding points, achievements, rank lists, and other extensions to the original – and exceedingly simple – experience.
Check out 5 of the best virtual fidget spinner on Android, and please don't blame us if you end up thoroughly addicted and buying a real-life one. It's only the fidget spinner concept at work!
Fidget Spinner
In this game, you have 5 swipes to pull off the best spin you can. Swipe the spinner left or right with your finger, wait for the action to stop, and get the rewards! Then, go on to upgrade your finger spinner, compete with your friends, and beat the records!
Fidget spinner simulator
Designed as an authentic virtual version of the real fidget spinner toy, this app features a variety of spinners with real physics of toy rotation. Allegedly, it is perfect for kinesthetics and people who can't focus, though doctors may dispute that claim. The realistic physics let you make the spin fast or slow, perfectly repeating the mechanics of a real spinner. Choose your favorite model and twist as quickly as possible.
Fidget Spinner Collector
Collect, fuse and evolve fidget spinners – that's what this game is about. You will start off with a basic orange spinner and work your way towards a collection of over 50 unique ones. Use boosts to supercharge your earnings and participate in events to help with amassing your collection.
Fidget Spinner Pro
Fidget Spinner Pro aims to be a highly realistic spinner app with as many as 31 fully 3D-modeled spinners and the recorded sounds of an actual toy. Put your finger on the center and rotate or flip to change direction while spinning. See how many spins you can get in 30 seconds in Challenge mode, or spin as long as you want in Endless mode. By earning gems, you will also unlock new spinners, such as Gear, Metallic Rainbow, Wood, Silver, Gold, Shuriken, Glow- In-The-Dark, and LED.
Spinner - Fidget Clicker
Spinner - Fidget Clicker captures all of the fun of a real epic Fidget Spinner, letting you relieve stress and spin to your heart's content. The app features realistic physics for maximum fun. No matter the situation, you can spin everywhere!
ALSO READ