Space Harrier II is the latest game joining SEGA Forever classic collection
2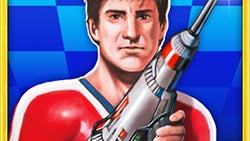 Space Harrier II is a game originally released in 1988, a groundbreaking third-person shooter that is considered by many the father of the genre. Thanks to SEGA's emulator, Android, and iOS users will now be able to enjoy Space Harrier II on their mobile devices.
If you're a junkie for quick-paced, frantic third-person shooters, then Space Harrier II will certainly fit your needs. You'll be playing as Harrier, a jumpsuited hero who soars across twelve unique lands while facing a swarm of enemies.
Just like every other game that's part of the SEGA Forever games collection, Space Harrier II is available for free, but it's ad-supported. While there are no in-app purchases in the game there's an ad-free play option with in-app purchase that allows you to play unhindered.
Moreover, to celebrate the new emulator, SEGA announced that they have slashed the ad-free play upgrade by half. The discount is available for all games in the SEGA Forever classic collection on both the Android and iOS platforms.
source: App Store, Google Play