Sony's Xperia Z Ultra will let you write on it with keys, coins and pens [video]
23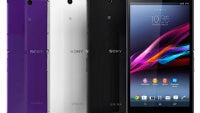 According to a video posted yesterday, Sony's upcoming foray into the phablet category will let you write on it with pretty much everything you have at your disposal, granted its diameter is bigger than 1mm, or so the Japanese company claims.
The folks behind Chinese
ePrice
appear to have taken this promise to heart, for they have posted a video on YouTube where they subject the Xperia Z Ultra's screen to some rather extreme testing.
Luckily, a Stanley knife doesn't appear to register well enough with the phablet, so that precludes us from suggesting you consider a more sensible alternative that has your (future) phablet's longevity closer to heart. That being said, using your keys
will
work. And so will a coin or a pen. Actually, we'll just let you have a look for yourself, and see that Sony's promise
mostly
holds true.
The Sony Xperia Z Ultra is set for launch by the end of the month in Hong Kong, and
as early as September 13 in the UK
. Availability info is still sparse, but we'll let you know once we know more.
source:
ePrice
via
XPERIA Blog