Sony shipped a record-low number of smartphones in Q1 2019
35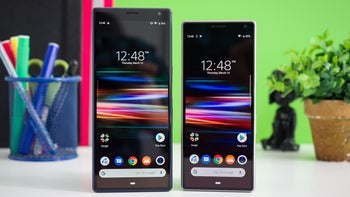 The Xperia 10 & 10 Plus; Sony's latest contenders
One year ago, Sony forecasted 10 million smartphone sales for the financial year ending March 2019. Months later, it revised this figure down to 9 million and then to 7 million. This January, another revision dropped it to 6.5 million and bingo! That's how many smartphones Sony actually
shipped
(
via
Xperia Blog
) during the 12-month period.

The latest figure is a far cry from the almost 40 million smartphones Sony sold during the 2014 financial year, but things get even worse when broken down by quarter. Between March and June 2018, the company shipped 2 million units, which then declined to just 1.6 million in the months leading up to October. The Xperia XZ3's launch and the Christmas season did provide a slight boost to Sony's smartphone business during the final months of 2018, but the company still only shipped 1.8 million units. And during the first three months of this year, with few new releases to boost its business, Sony shipped a record-low 1.1 million units.
These poor results translated into a huge loss of 97 billion yen ($869 million) for the company's mobile division. Nevertheless, through
thousands of layoffs
and other measures, Sony hopes to eventually cut its operating expenses by 50%.
Looking to
the future
, Sony is forecasting smartphone sales of just 5 million units between now and March 2020. Regarding profitability, it's warned that the mobile business might not become fully profitable until March 2021, although it could happen before this.
Recommended Stories