Sony signs partnership with accessory makers, your Xperia will now look prettier
6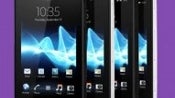 There's no shortage of smartphones nowadays - a plethora of Android handsets, a good bunch of Windows Phone devices, BlackBerries, still some Symbian devices, bada for some markets, and - of course - the iPhone. But when it comes to customization, cases and accessories, the iPhone is pretty much the only phone that gets major support, and maybe some high-end Androids like the new Galaxy S III. Others? Not so much.
To change that Sony has now signed a partnership with major case makers like
CaseMate, AGF, Incipio, Krusell, Dicota, Copter,Muvit, Roxfit, Orbyx and Shinnorie
, that will outfit its Xperia smartphones. Good news for those who want both protection and style for their gadgets.
The new accessories will
start arriving from mid-May
, which is now, so that's definitely good news. We don't yet know any details about pricing, but what's sure is that it will vary with so many supporters, and you'd definitely have what to pick from.