Sony Xperia ion price revealed, up for pre-order
19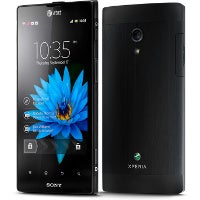 The AT&T-bound
Sony Xperia ion
made its debut at CES this year, but while we knew the technical details about it, we didn't know what all of that would cost. Negri Electronics and other etailers are now getting the device up for pre-order and the retail prices also start to show: the Xperia ion is
priced
at $569.50 unlocked.
You should be careful, though, when getting an unlocked device as for example the Xperia ion won't work on T-Mobile's 3G network, so you'd be stuck with only snail-fast EDGE. It will work on AT&T's 3G waves, as well as on European and some Asian carriers.
The AT&T-bound Sony Xperia ion comes with a spacious 4.55-inch display and also includes LTE-radio. Under the hood, there's a dual-core 1.5GHz Snapdragon processor powering Gingerbread which should be updated later to Ice Cream Sandwich. Its biggest focus, though, seems to be on the camera as the Ion features a capable 12-megapixel camera with the Exmor R sensor.