Sony Xperia Z3 metal frame leaked, August announcement in tow?
50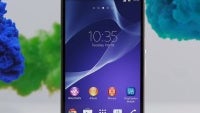 Sony just can't give us, or its engineers a break. The
Sony Xperia Z2
was introduced this February, roughly six months after the Xperia Z1. It's like customers barely had enough time to enjoy the Z1 before they faced the temptation to upgrade. It looks like the same fate awaits owners of the new Z2, as only three months after MWC 2014, we're already talking about the Xperia Z3. Well, it's not like we didn't expect that, did we? But the source said that Sony could announce the Xperia Z3 as soon as August, making it its flagship smartphone for the second half of 2014, which is just six months after the Z2 was announced.
According to the photos below, this is the Xperia Z3's metal frame. It is treated with a PVD coating, which will provide a more corrosion-resistant interface, better impact resistance and resilience to scratches. It is also said to be more environmentally friendly.
The source of the photos claimed that the Xperia Z3 will ignore the QHD-trend, instead opting for a 1080p display, a beefy Snapdragon 805 CPU clocked at 2.7GHz, 3GB of RAM, and a 20.7MP main camera. This doesn't sound like too much of an upgrade over the Z2, but who knows, maybe Sony is working on something special.
via
G For Games