Sony Xperia Z Ultra confirmed for U.K. release September 12th, available online now
13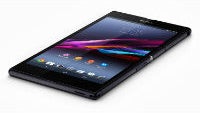 Sony's new 6.44-inch monster phablet
Xperia Z Ultra
(and yes, it is still somehow considered a phablet at that size and not a tablet) finally has a U.K. release date. There's still no word on the device making its way to the U.S. through an official carrier, but it is also available for purchase unlocked online right now if you're interested.
Unlocked Mobiles has outed the official release date for the device by putting up a pre-order page. The Xperia Z Ultra will be available in the U.K on September 12th, and it will cost £599.98 inc VAT and £499.98 ex VAT. That price is a bit lower than expected, but if you want the device unlocked for U.S. use right now, it will cost you a premium. Negri Electronics has the Z Ultra for sale right now. The purple model is backordered as of this writing, but you can get a black or white model for $799.50.
The Sony Xperia Z Ultra is big in every way. The focus of the specs is of course the 6.44-inch 1080p Triluminos display, and the device also packs in a Snapdragon 800 SoC, 2GB of RAM, 16GB of storage, an 8MP rear camera, 2MP rear camera, all running on Android 4.2.2.