Sony Xperia XZ2 vs Samsung Galaxy S9 vs Google Pixel 2 XL: Specs comparison
6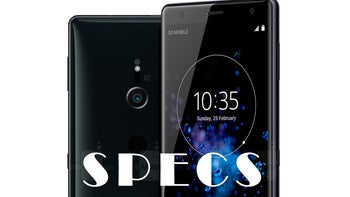 Sony's new Xperia phone will have some tough time vying for your attention given the abundance of flagships available right now, but it seems to have the necessary arsenal to do this.
Snapdragon 845, big 18:9 display, and interesting features like Dynamic Vibration make the XZ2 an interesting choice. While it's not as well-specc'd as some of its rivals, it will probably float the boat of your average Xperia fan.
But how does it stack up against the Galaxy S9 and the Pixel 2 XL, two of its alternatives?
P-OLED
Super AMOLED
IPS LCD
Scratch-resistant glass, Ambient light sensor, Proximity sensor
HDR support, Scratch-resistant glass, Ambient light sensor, Proximity sensor
HDR support, Scratch-resistant glass, Ambient light sensor, Proximity sensor
Qualcomm Snapdragon 835 MSM8998 (10 nm)
Qualcomm Snapdragon 845 SDM845 (10 nm)
Qualcomm Snapdragon 845 SDM845 (10 nm)
Octa-core, 2350 MHz, Kryo 280, 64-bit
Octa-core, 2800 MHz, Kryo 385, 64-bit
Octa-core, 2800 MHz, Kryo 385, 64-bit
Adreno 540
Adreno 630
Adreno 630
128GB, not expandable
64GB
64GB
Android (11, 10, 9.0 Pie, 8.1 Oreo, 8.0 Oreo)
Android (10, 9.0 Pie, 8.0 Oreo), Samsung One UI
Android (9.0 Pie, 8.0 Oreo)
USB Power Delivery
Qualcomm Quick Charge 2.0, Samsung Adaptive Fast Charging
Qualcomm Quick Charge 3.0, USB Power Delivery
31.00 hours
the

average

is 11 h (660 min)
12.20 hours
the

average

is 11 h (660 min)
3.4 days (82 hours)
the

average

is 29 days (688 h)
24.6 days (590 hours)
the

average

is 29 days (688 h)
23.00 hours
the

average

is 0 h (0 min)
26.2 days (630 hours)
the

average

is 0 days (0 h)
24.6 days (590 hours)
the

average

is 20 days (472 h)
3G: 11 hours; LTE: 12 hours; Wi-Fi: 14 hours
Single camera
Single camera
Single camera
12.2 MP (OIS, Laser and PDAF, CMOS image sensor)
19 MP (Laser and PDAF, CMOS image sensor)
Aperture size: F1.8; Focal length: 27 mm; Sensor size: 1/2.6"; Pixel size: 1.4 μm
Aperture size: F1.5/F2.4; Sensor size: 1/2.55"; Pixel size: 1.4 μm
Aperture size: F2.0; Focal length: 25 mm; Sensor size: 1/2.3"; Pixel size: 1.22 μm
3840x2160 (4K UHD) (30 fps), 1920x1080 (Full HD) (120 fps), 1280x720 (HD) (240 fps)
3840x2160 (4K UHD) (60 fps), 1920x1080 (Full HD) (240 fps), 1280x720 (HD) (960 fps)
3840x2160 (4K UHD) (60 fps), 1920x1080 (Full HD) (960 fps), 1280x720 (HD), 640x480 (VGA)
OIS, EIS, Video calling, Video sharing
HDR, Time-lapse video, Hyperlapse, Continuous autofocus, Object tracking, Picture-taking during video recording, Video calling, Video sharing
HDR, Time-lapse video, EIS, Video calling, Video sharing
8 MP
8 MP
5 MP
1920x1080 (Full HD) (30 fps)
2560x1440 (QHD) (30 fps)
1920x1080 (Full HD) (30 fps)
6.22 x 3.02 x 0.31 inches (157.9 x 76.7 x 7.9 mm)
5.81 x 2.70 x 0.33 inches (147.7 x 68.7 x 8.5 mm)
6.02 x 2.83 x 0.44 inches (153 x 72 x 11.1 mm)
6.17 oz (175.0 g)
the

average

is 6 oz (171 g)
5.75 oz (163.0 g)
the

average

is 6 oz (171 g)
6.98 oz (198.0 g)
the

average

is 6 oz (171 g)
Back: Aluminum, Glass
Back: Glass (Corning Gorilla Glass 5); Frame: Aluminum
Back: Glass; Frame: Aluminum
Water, Dust; IP67
Water, Dust; IP68
Water, Dust; IP68
Fingerprint (touch)
Iris scanner, 2D Face unlock, Fingerprint (touch)
Fingerprint (touch)
Notification light
Notification light
Notification light