Sony Xperia XZ and X Compact Style Cover Touch and Stand official cases hands-on: elegant and functional
1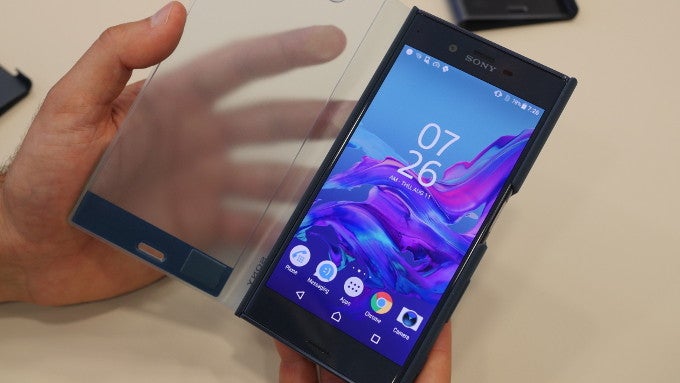 Along with its brand new phones, Sony brought a few cool new cases to complement the Xperia XZ and Xperia X Compact.
These new cases are the Sony Style Cover Touch and Sony Style Cover Stand series, and the first one brings a flip case with a see-through cover that you can operate your phone through, while the second folds into a stand.
Sony Xperia XZ with Style Cover Touch
The Style Cover Touch is the most elegant solution that Sony introduces for the Xperia XZ: it features a see-through front cover and that gives your screen a matte look, and you can use the phone without ever flipping the case open, while on the inside it has a microfiber-suede finish for soft cushioning. This allows you to have a full protection from your device, but without the hassle of having to flip it open every time. Of course, the case itself comes in a selection of three colors to match with the color of your Xperia phone. The case also retains that signature Loop design of the XZ itself.
Admittedly, it does make the Xperia XZ thicker: with the case on, the dimensions of the phone grow to 147.5 x 76.3 x 12.4 mm, while the case itself adds 40 grams of weight.
Sony Xperia XZ with Style Cover Stand
The other new and notable Xperia XZ case is the Sony Style Cover Stand. It is a regular flip case without the transparent screen tricks of the Style Cover Touch, but it features another neat option: it folds into a stand for the Xperia XZ, so you can stand the device while you watch a longer video and don't need to hold the phone in your hands the whole time.
Again, this case doubles Sony's own Loop design language and is crafted to fit the XZ perfectly. It also adds quite a bit of bulk to the phone, though: with the case on, the Xperia XZ dimensions grow to 147.5 x 76.0 x 13.4 mm, and it adds 50 grams of weight.
Sony Xperia X Compact with Style Cover Touch
Finally, we have the Style Cover Touch for the smaller Xperia X Compact. The 4.6-inch phone also needs protection and the Style Cover Touch provides that in a nice fit and finish, and with the added functionality of the transparent and fully usable screen via the transparent cover.