Sony announced US prices and release dates for the Xperia XZ Premium, Touch, and XA1 Ultra
20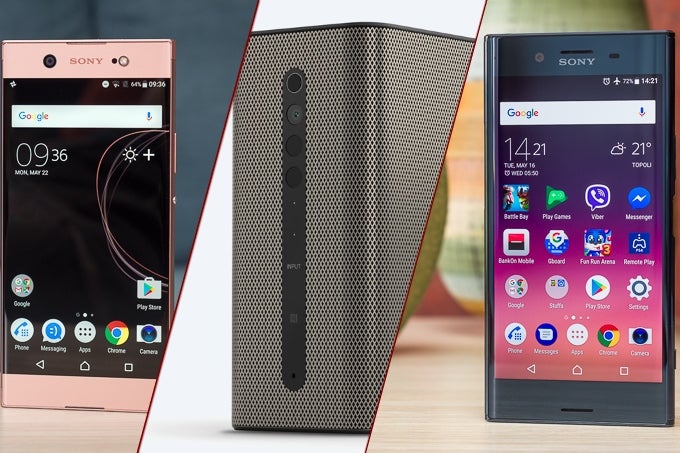 Sony Xperia XA1 Ultra, Xperia Touch, and Xperia XZ Premium
Sony is really trying to make a push this year. At MWC, the company unveiled four new smartphones, alongside its interactive projector – the Xperia Touch. And while some users around the globe are already enjoying three of the four handsets, two of them have yet to arrive in the US. Good news is that we now have official release dates for the new Sony products that have yet to make it to the US.
Sony confirmed that the
Xperia XZ Premium
will be available for pre-order on Amazon and Best Buy beginning June 12, 2017. The phone will be launching a week later, and starting June 19, users in the US will be able to buy it unlocked through Amazon, Best Buy, Fry's, and
"other participating retailers"
. The suggested retail price of the handset will be $799.99. If you'd like to know a bit more about the phone, make sure to check our
Xperia XZ Premium review
.
When it comes to Sony's interactive projector, the Xperia Touch, release date will be June 16. The device will be available exclusively at the Sony Square display room at 25 Madison Ave in New York City. The projector will carry a suggested retail price of $1,699.99. It might seem like a lot, but considering it's currently the only consumer device of its kind, we're sure there would be more than enough buyers.
In case you're waiting for Sony's mid-ranger, the
Xperia XA1 Ultra
, you're also in luck. Pre-orders of the phone will be starting June 12, followed by online availability on June 21, and in-store sales on July 2. Sony hasn't given a price for the XA1 Ultra, but if the European prices are anything to go by, we'd say that the mid-ranger will sell for about $400.
SONY ANNOUNCES AVAILABILITY FOR FLAGSHIP XPERIA™ XZ PREMIUM AND INTERACTIVE XPERIA™ TOUCH FOR THE UNITED STATES
WHAT:
Sony Mobile Communications ("Sony Mobile") is pleased to announce that Xperia XZ Premium will be available for pre-order on Amazon and Best Buy beginning June 12, 2017 and can be purchased unlocked starting June 19, 2017 in the United States through Amazon, Best Buy, Fry's and other participating retailers for a suggested retail price of $799.99.
In addition, Sony Mobile's mid-tier Xperia XA1 Ultra pre-sales will start June 12, 2017 and will be available online on June 21 and in-stores on July 2. The long-awaited Xperia Touch will also be exclusively available at the Sony Square display room at 25 Madison Ave in New York City for a suggested retail price of $1,699.99. Pre-sales for Xperia Touch will begin on June 16.
As Sony's newest flagship smartphone, Xperia XZ Premium builds on decades of Sony's camera innovation and draws on the heritage of the Sony Cyber-shot® range of cameras. Xperia XZ Premium features the new memory-stacked Motion Eye™ image sensor bringing several new technical features to users looking for the ultimate camera experience. Featuring a 19MP main camera and 13MP front-facing camera, Xperia XZ Premium captures the world in stunning quality.
Xperia XZ Premium's camera provides the world's first super slow motion camera in a smartphone recording at 960 frames per second with playback 4X slower than other smartphones, making the ordinary look extraordinary.[i] Furthermore, Motion Eye™ brings better low-light performance and higher optical clarity for sharper images and less noise. The Sony Exmor RS™ lens captures every little detail in stunning clarity by automatically adjusting the light levels internally and giving you a vibrant picture whether you're shooting in a full light setting or at night.
Xperia XZ Premium also features the world's first 4K High Dynamic Range (HDR) screen in a smartphone which gives expanded light and colors, gives more depth to photos with the added pixels and shares a wider range of colors and tones than standard dynamic range content.[ii] Paired with 5.5" 4K HDR TRILUMINOUS™ display technology, it gives users a sense of reality like never before. Xperia XZ Premium is packed with the newest Qualcomm® Snapdragon™ 835 processor allowing for great connectivity and excellent entertainment whether creating super slow motion videos, watching 4K HDR videos, or playing the latest PlayStation® games on PS4™ Remote Play.
Beyond camera and video capabilities, Xperia XZ Premium features Qnovo Adaptive Charging to support long-lasting battery life, along with a loop surface design leveraging Corning® Gorilla® Glass 5 on the front and back for added durability and water-resistant IP rating 65/68. The Xperia XZ Premium will be available in three colors: Luminous Chrome, Deepsea Black, and Bronze Pink, and will support GSM networks.