Sony Ericsson Xperia pro Hands-on
7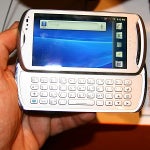 With all the high-end dual core and 3Dsmartphones making an appearance, the Sony Ericsson Xperia pro is notthe most innovative handset out there, but sometimes conservative is better. It is anicely looking landscape QWERTY slider with a screen sized at 3.7inches with a resolution of 480 x 854 and Sony's Mobile Bravia enginefor graphics. The Xperia pro actually reminded us of a lower-endversion of the Xperia Arc as both share a gorgeous screen (the Xperia prois significantly smaller). The SE Xperia pro has a rounded plasticbody and a solid feel. Moreover, Sony Ericsson claims anergonomically designed keyboard for faster typing. The phone is thefirst one with Type & Send functionality which puts all messagingin one place and it also features Smart Keyboard for predictivemessaging.
Under the hood, there is a 1GHzSnapdragon processor taking care of the smooth performance ofAndroid Gingerbread skinned with SE's very own Timescape. The8-megapixel rear facing camera is equipped with LED flash andcan shoot HD video. Both are enhanced with Sony's Exmor Rsensor for better low-light performance. On the front there is a2-megapixel camera – perfect for video calling.
The phone definitely targets thebusiness user not only with its keyboard, but also with itscapabilities to securely sync information as well as view and editdocuments through the preloaded Office Suite Pro. Finally, the Xperiapro will come with HDMI connectivity allowing it to output contentdirectly to an HD TV or a projector. However for this one, the wait will be a bit longer as the handset is expected at the end of the second quarter of 2011.