Sony Ericsson Xperia Mini Pro 2 leaks out again: 1GHz CPU, 5MP camera
7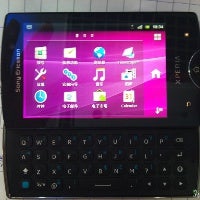 We saw the Sony Ericsson Xperia MiniPro 2, also known as the SK17i or Mango, a mere week ago, but nowit's launch seems ever so close as it poses for the camera again.This time it appears in the hands of a SE employee at the company'sShenzhen factory, who managed to confirm that the processor is to beof the Snapdragon family clocked at 1GHz. The Chinese insidermentions that it could be one of the earliest Snapdragons, theQSD8650, but we'll take this with a grain of salt as we expect to seea newer generation of the CPU. What seems much more credible is thatthe Xperia Mini Pro 2 will sport a 5-megapixel auto-focus camera onthe back, capable of recording 720p HD videos.
It comes with a display measuring atleast 3" with a resolution of 320 x 480 pixels. By the looks of it,we'll have a customizable SE skinning on top of Android 2.3Gingerbread. In terms of design, the chiclet-style full QWERTYkeyboard slides out from the side, while on the front there is asingle large physical button surrounded by two capacitve keys.
Another insider suggests that thehandset will come with 512MB of RAM and 1GB of ROM when it becomeswider available in May. Guesses are that the Xperia Mini Pro 2will carry an off-contract price of 60 euro less than the Xperia Neo,but while other details are scarce, there are plenty of pictures toillustrate what's coming in the near future. So what are yourthoughts about the Mini Pro 2? Don't hesitate to share your opinionin the comments below!
source: IT168 (translated)