Sony Ericsson Xperia SK17i Mango leaks out, to be the successor of X10 Mini Pro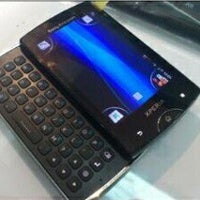 The Sony Ericsson Xperia lineup gotsome shiny new additions at MWC just two months ago, but if youthought that was all SE had to offer, you'd be wrong. The SonyEricsson Xperia SK17i codenamed Mango was leaked on Chinese forumIT168 and it seems to offer all that the X10 Mini Pro had, but thistime with an HVGA screen sized between 3 and 3.2 inches. Don't befooled by the Mango codename – by all visible clues the phone willrun Android 2.3 Gingerbread, not Windows Phone in any form. Inaddition, the skin seems similar to the UX one tailored for the tinyscreen of the X10 Mini Pro.
In terms of hard silicon, under thehood we'd have a CPU clocked at 800MHz to 1GHz, and details seem toend here. But most importantly, a chiclet-style slide-out keyboardaims to boost your typing to the uber level. The Sony Ericsson XperiaX10 Mini Pro might have well claimed the title of the longest cellphone name for such a minuscule handset, but didn't break anytechnological ground. What's your opinion of its successor, the SK17i– would you consider a handset with such a screen? Sound off in thecomments!
source: IT168(translated)