Sony Ericsson Xperia mini pro Review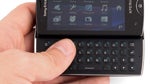 Introduction:
Until now, this trend went mostly unnoticed, due to the very nature of the smartphone-rocking crowd – tech-savvy individuals who mainly care about the specs and capabilities of their devices, rather than how they look. However, with the rapid proliferation of smartphones, we're beginning to see more and more casual cell phone users making the jump to using an
iPhone
, an Android handset, etc. With such popularization, sooner or later there's going to be demand for devices that look a bit more refined, a bit more sophisticated, if you will.
Some manufacturers are already willing to target their devices to this new, previously unexplored area of the market. Sony Ericsson's Xperia line is a perfect example. With handsets like the arc, ray and mini, the joint-venture is openly showing that its offerings don't rely on specs alone. They'll attract people by looking cool. A rather atypical solution can be observed with the
Sony Ericsson Xperia mini
and mini pro – the new additions to the manufacturer's "super-mini" class, which have taken all the good sides of their predecessors, and managed to complement them with some more up-to-date specs. Let's see how the QWERTY-sporting
Xperia mini pro
fares in this cruel world of smartphone juggernauts!
In the box you'll find:
Sony Ericsson Xperia mini pro
Wall charger with detachable microUSB cable
MH410 GreenHeart handsfree
2GB microSD card
Small cleaning cloth
Screen protector
Lots of papers
Design:
This is where the Sony Ericsson Xperia mini pro should shine. The handset is designed to be stylish and compact, and it's safe to say that the goal has been achieved. We have the all-black variant, but there are also all-white, as well as white with pink or blue back covers to give it a fresher appearance. Due to the presence of a side-sliding QWERTY keyboard, the Xperia mini pro is a bit chubby. Because of that, its presence in your pocket is definitely noticeable. This won't really be a problem for female users, who put their phones in their handbags, and for this purpose, the Xperia mini pro is ideal, managing to remain pretty compact.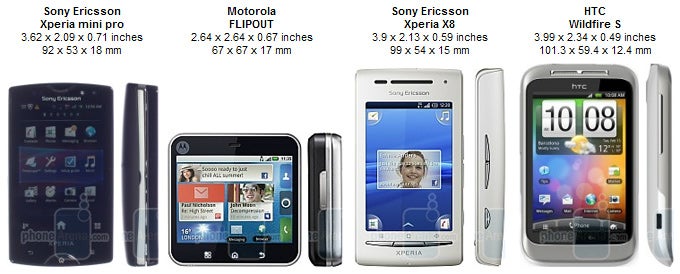 You can compare the Sony Ericsson Xperia mini pro with many other phones using our
Size Visualization Tool
.
Sony Ericsson has done a remarkable job with upgrading the mini pro so that it fits today's standards. The
display
is up from 2.55" QVGA to the much more bearable 3" of HVGA goodness, all the while keeping the dimensions of the device in tact. The display itself is pretty decent in terms of colors and viewing angles. Unfortunately, the ambient light sensor cannot be turned off, so you definitely lack some flexibility in terms of brightness. Outdoors, you'll have to shield your device with your hand, in order to get a readable view. Thankfully, the HVGA resolution plays well with this screen size, and thus the Sony Ericsson Xperia mini pro delivers fine details, although not Retina Display-quality.
Bravia Engine
for enhanced photos and videos, which is something we do appreciate. Finally, while the 3 inches of screen real estate are good enough for simple everyday tasks like checking the mail, but hardcore smartphone users will have to look elsewhere and find a bigger option.
The
buttons around the device
left us with some mixed feelings. For example, while the camera shutter is fantastic, the volume rocker clearly lacks some of that pronounced travel that we enjoy so much. And while the power/lock button seems fine, it's like its tiny dimensions are making it a bit uncomfortable to use. The home button is okay, though could be a bit less stiff.
sliding mechanism
is executed perfectly – the upper part quickly and firmly snaps into place, leaving you alone with that four-row QWERTY keyboard, that has to be pretty well-made, in order to be usable within the compact realities of the Xperia mini pro. And indeed it is! We had absolutely no problems using the keyboard, even then it's not the most spacious one out there. Keys are still nicely spaced out from one another, allowing you to avoid pressing the wrong ones, while they also provide a reassuring feedback when pressed, due to their "clickiness".
Sony Ericsson Xperia mini pro 360-degrees View: